January 23, 2020 | 26 Tevet 5780
For the fifth consecutive year, instead of taking the day off, Community Day School students and faculty took on the essential themes of Martin Luther King Jr. Day together with the broader Pittsburgh community in a day of learning, service, and reflection.
In a time when the Pittsburgh Jewish community and CDS have received an outpouring of love, kindness, and inclusion from across the world, we felt it was urgent to rededicate ourselves to the pursuit of social justice for all marginalized communities guided by our Jewish values.
The day began with more than 100 visitors joining the entire school gathered in our Ulam Sport to greet the day with a special tefillah (prayer) service and songs evoking the dreams of Dr. King, including a rousing version of "This Little Light of Mine" led by Kindergarten and 5th Grade and "By the Rivers of Babylon" with 6th Grade accompanied by band teacher Julie Harris on guitar.
We were honored with an inspirational message from Emmy Award-winning film director, photographer, and composer Emmai Alaquiva, who challenged us to think about the meaning of social justice and building bridges across African-American and Jewish communities. Once homeless, Alaquiva shifted the trajectory of his life's path to become one of Pittsburgh's most distinct trailblazers in the creative arts as the CEO of Ya Momz House, Inc. multimedia company and curator of OpticVoices, an interactive photography exhibit for social change. After Alaquiva spoke to the full school, students participated in a "gallery walk" of some of the images from the OpticVoices project, documenting their response to his work by writing down their caption or hashtag for each photo (you can browse these reactions here).
With the help of Repair the World Pittsburgh and the Jewish Federation of Greater Pittsburgh Volunteer Center, CDS students, faculty, parents, board members, and alumni then spent the morning of MLK Day 2020 engaged in service learning projects.
Students made lasagnas for the JFCS Squirrel Hill Food Pantry, tied fleece blankets to comfort children in need through Project Linus, wrote inspirational messages in notebooks for students at Assemble and Higher Achievement Pittsburgh, packed Zack Packs for families staying in the hospital with their medically fragile child with Zachary's Mission, sorted materials for the Pittsburgh Center for Creative Reuse, and prepared sandwiches for Auberle Foster Care. Our Middle School students partnered with students in Early Childhood and Lower School to guide and mentor them in this work.
In the afternoon, our 6th graders continued to give back with additional service projects at Casa San Jose in Beechview, where they worked with Latino children to make bookmarks for Caitlin's Smiles in a service learning project guided by Repair The World Pittsburgh alumni fellows Gabe LaBelle and Jesse Helfer (both are also CDS alumni!). Our 7th Grade traveled to the Latino Community Center in Downtown, where they explored immigration issues and made cards of love and support. CDS 8th Grade went to Aquinas Academy of Pittsburgh, a Catholic School in the North Hills, partnering with students there to pack bags of food for Outreached Arms, a Christian organization whose mission is to provide hope to inner city homeless and working poor by serving warm meals, nurturing relationships, and meeting essential needs.
Special thanks to CDS Director of Institutional Advancement and Donor Relations Jenny Jones for coordinating all of these remarkable opportunities for service learning. We are also very grateful to Giant Eagle and an anonymous alumni CDS grandparent for generously helping to underwrite the costs of these projects.
Throughout the day, our teachers in Early Childhood through Grade 8 continued to create meaningful experiences expressing Dr. King's vision in relation to learning that has been going on all year, all centered around the theme of "Nation." Students in all grades explored issues of race, equity, social justice, immigration, and the history of our own country, as well as what they can do to create a better United States and a better world.
For example, Middle School students could choose among workshops such as 'Latinx Identity, Ethnicity, and Race' led by Spanish teacher Brenda Hayes; 'Debate Over Reparations For Social Justice' led by Facing History and Ourselves teacher Jackie Goldblum; the 'History of Hip Hop' led by Language Arts teacher Cara Shuckett; and a panel discussion about 'Civil Rights, History and Justice in the Military' by U.S. military veterans on our staff Kyle Ison and Jessica Burdge and IDF veterans Michal Schachter and Sagi and Tal Perel. In Intermediate School, students explored topics of voting rights, what it means to be a member of a community, and environmental justice. Lower School and Early Childhood students learned about the history of Dr. King and the fundamentals of his message through hands-on activities and art projects.
While we say that MLK Day at CDS is a day like no other, the day is deeply meaningful because of what we do on our other days of school.
Our students led songs during tefillah because they do that daily and during Kabbalat Shabbat. Our students worked side by side with their little and big friends on service learning projects because of the relationships they build in their Shevatim. And our students asked questions that challenge all of us to question our actions and to ask ourselves if we can look back from this MLK Day to the next and say that we took action to right a wrong or to correct an injustice. If the answer is "yes," we proceed to do more. And if the answer is "no," we commit to making sure the answer is "yes" next year.
Inspired and supported by Learning Innovation Coach Dr. Jackie Barnes and a team of teacher leaders, each of our faculty prepares for this day with 364 days of reflection, planning, and commitment. Each one of us knows what it is in our power to do, so that next year, at this time, we can answer yes. Yes, we have taken steps to right a wrong or to correct an injustice. That is what we mean when we say, "His dream is my dream."
I am so thankful to our entire staff, and to our students, for making this day a day that truly honored Dr. King's legacy.
Avi Baran Munro 

Head of School
Middle School Science Fair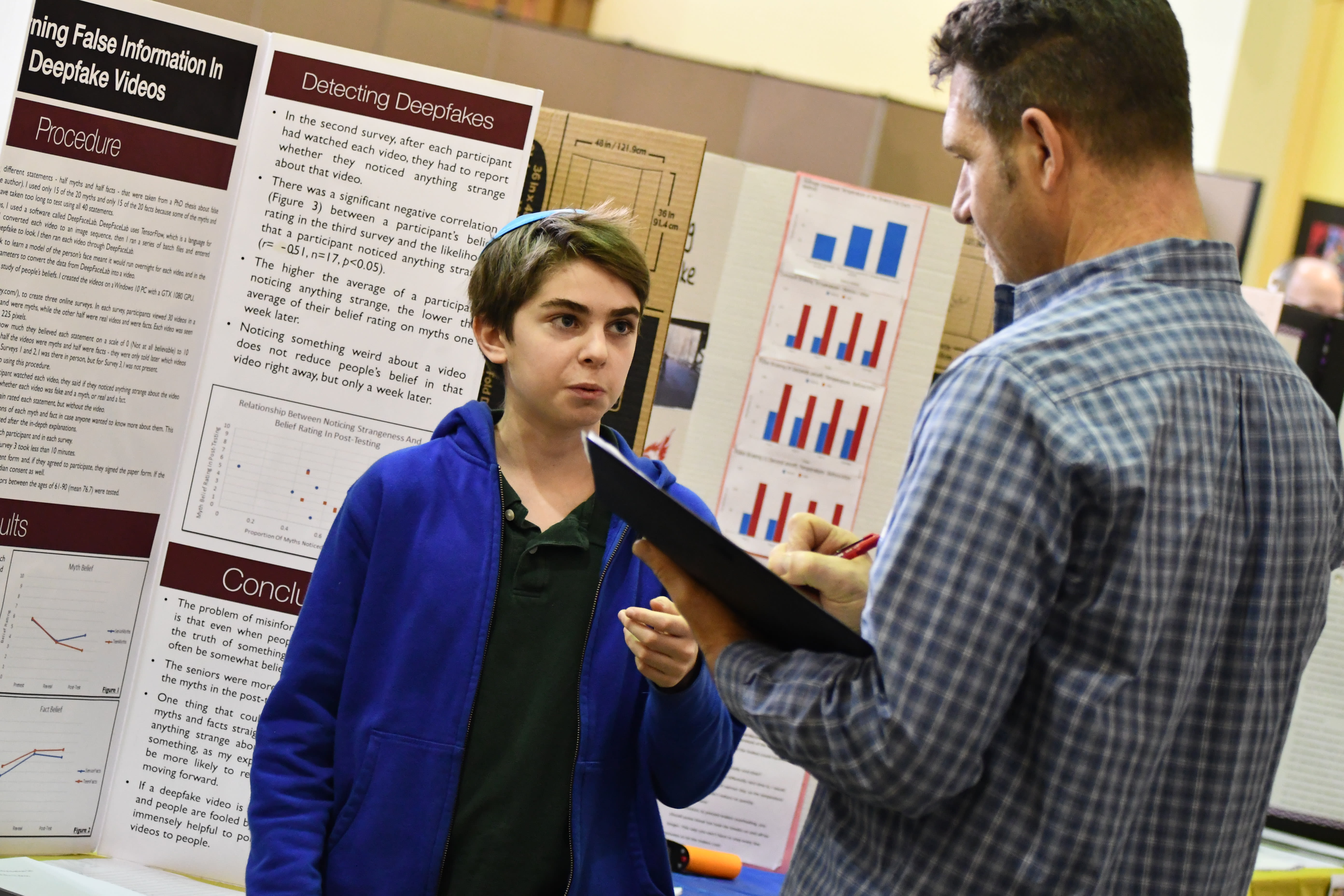 Our Middle School students (and some enterprising 5th graders) participated in the 2020 CDS Science Fair today, with plenty of grit, determination, creative inquiry, scientific knowledge, passion, and communication skills on display for the expert panel of judges.
Tickets are still on sale for the biggest CDS fundraiser of the year this Saturday, January 25 at 7:30 p.m. Get out your ripped jeans and favorite concert T-shirt and rock out for a great cause at the CDS Rock-n-Roll Annual Party! 
The 8th Grade Israel Trip Fundraising Auction is LIVE! Peruse our fabulous items, and start bidding NOW on jewelry, food and gourmet items, sports tickets, artwork, one-of-a-kind Pittsburgh experiences, and your CDS favorites. Auction proceeds will help underwrite the Class of 2020 graduation trip to Israel.
Fri Jan 24
Science Fair
7:30 AM - 8:30 AM
Sat Jan 25
CDS Rock-n-Roll Annual Party
7:30 PM
Mon Jan 27
8th Grade Minyan Makers with Beth Shalom
7:30 AM - 8:30 AM
Tue Jan 28
Building Character with Rabbi Schiff
8:00 AM - 9:00 AM
Wed Jan 29
7th Grade Minyan Makers with Tree of Life
7:30 AM - 8:30 AM
Wed Jan 29
1st Grade Information Session
7:45 AM - 8:30 AM
Mon Feb 3
8th Grade Minyan Makers with Beth Shalom
7:30 AM - 8:30 AM
Wed Feb 5
Spirit Day (Sports Day)
All day
Wed Feb 5
7th Grade Minyan Makers with Tree of Life
7:30 AM - 8:30 AM
Thu Feb 6
Spirit Day (Rainbow Day)
All day
Thu Feb 6
Destination High School Information Night
7:00 PM - 8:00 PM
Fri Feb 7
Bike Walk Rideshare to School
All day
Fri Feb 7
Spirit Day (Blue and Gold Day)
All day
Fri Feb 7
Full-School Kabbalat Shabbat and Spirit Day
8:00 AM - 8:30 AM
Fri Feb 7
8th Grade vs Faculty Basketball Game
1:25 PM - 2:35 PM