February 6, 2020 | 11 Sh'vat 5780
After more than two years of planning, designing, researching, and fundraising, we recently celebrated the soft launch of our new Learning Innovation Lab. Big picture, we designed, equipped, and furnished our newly combined computer lab and library space so that it serves as the hub of learning innovation for all CDS students and educators.
This week, we were excited about the arrival of new sofas, work tables, benches, and portable floor mats for the space. Modern computer science involves a lot more than sitting at a desktop computer, and so we have moveable tables and a flexible open floor plan to allow for student work on multiple projects and technologies.
Stop by the Learning Innovation Lab any time, and you will see these ideas in action. For example, in this photo, a Kindergarten student is working with our Computer Science and Robotics teacher on an iPad honing her literacy and digital skills with the Teach Your Monster To Read app. Similarly, earlier in the week here, 7th graders were introduced to autonomous tractors using the LEGO Mindstorm EV3 robotics set and then challenged to program their robots to navigate rows of trees in an orchard.
In the spring, we will invite parents and the greater community to a Grand Opening that will allow us to recognize our funders, thank everyone who worked so hard to make this happen, showcase the changed space, and highlight the innovative pedagogic opportunities that both propelled this transformation and will now be powered by it.
More than 400 people attended the CDS Rock-n-Roll Annual Party on January 25, rocking out together in celebration and support of our strong, vibrant, dynamic, innovative, and inclusive Jewish learning community that is creating a better world, one child a time.
At Community Day School, Tu B'Shevat is a joyous time when we connect with the land of Israel and instill a sense of environmental appreciation in our students. Share in our holiday observance with a free talk on February 11 hosted by the CDS Parent Association about air quality issues in our region.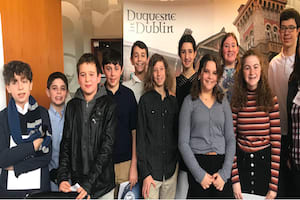 Congratulations to the 12 CDS Middle School students who presented their Science Fair projects recently at Pennsylvania Junior Academy of Science (PJAS) at Duquesne University. Four of these young scientists took home 1st Place awards (one even had a perfect score!) and will compete in the final state competition at Penn State University in May.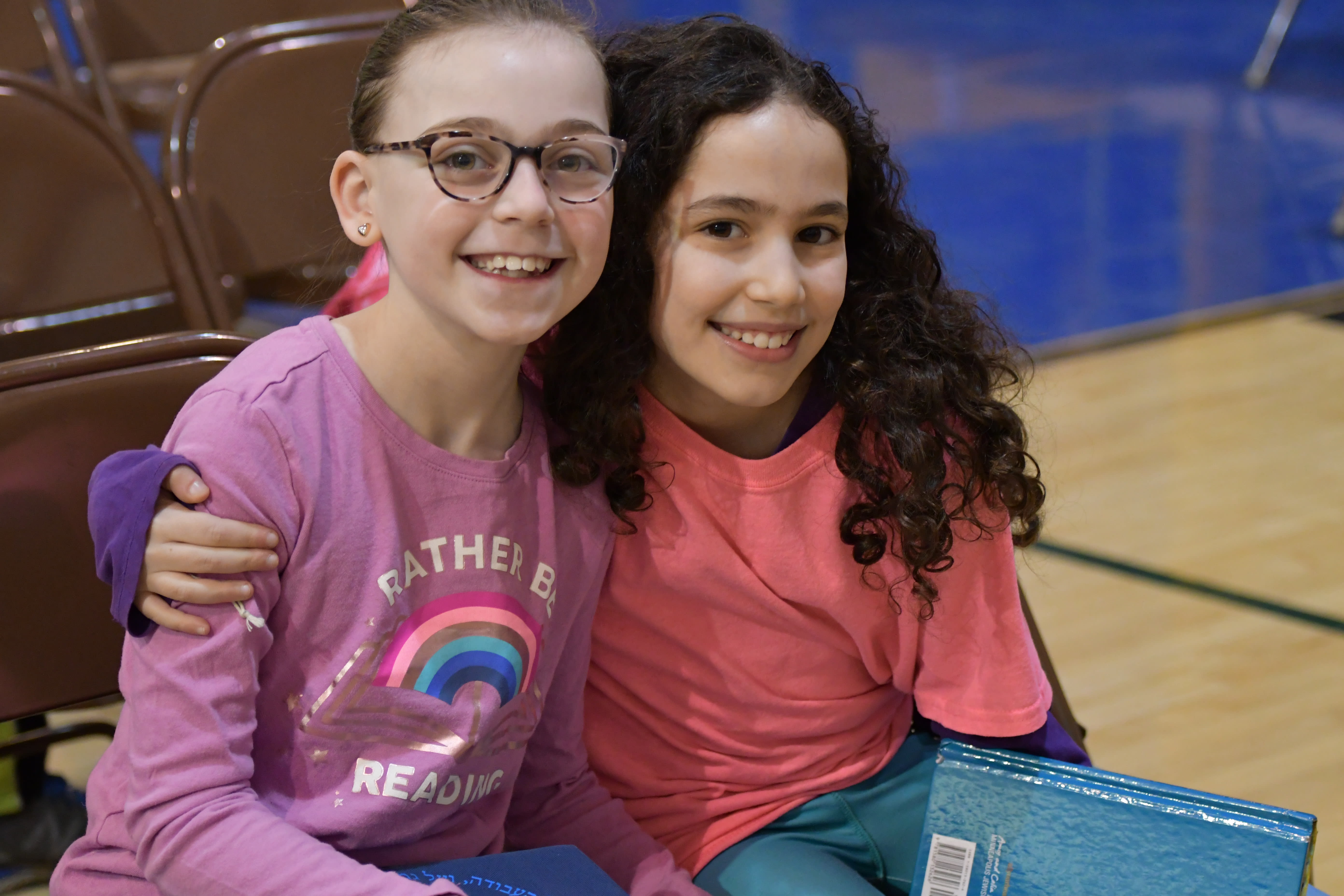 ​​​​​​​Middle School Student Council has been enjoying Spirit Days this week together with the rest of the school, which will culminate with Blue and Gold Day and tomorrow's annual showdown at the CDS 8th Grade vs. Faculty Basketball Game. See you in the Ulam Sport!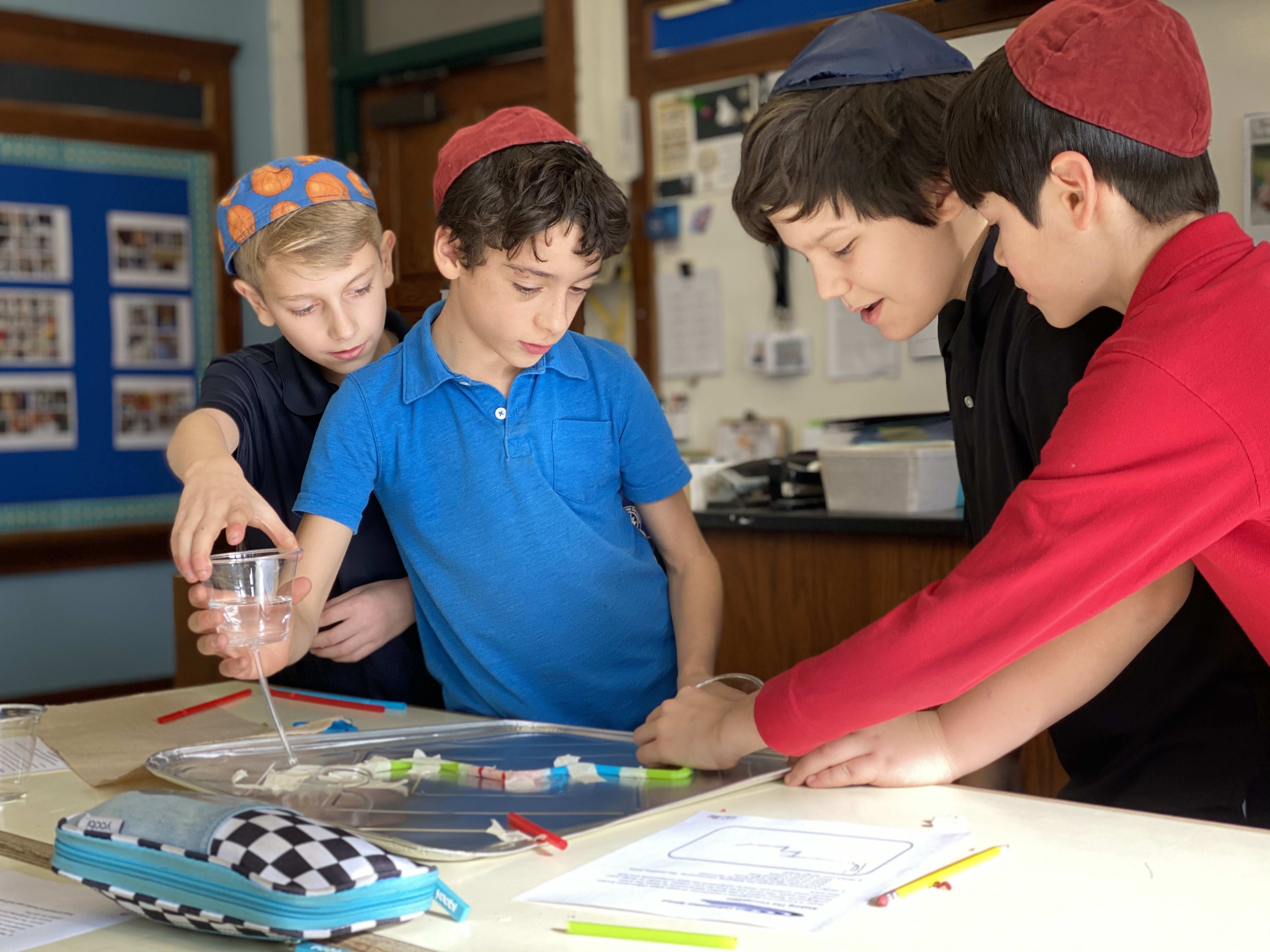 Have you ever wondered what it would be like to travel into space and live on another planet? In their Intermediate School IGNITE group, Trouble on Mars students are developing a plan to do just that—and learning about water conservation issues right here on Earth.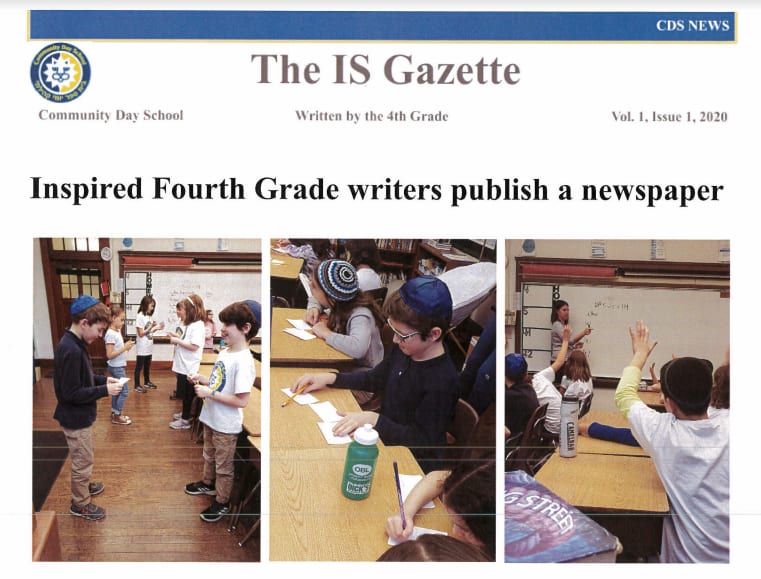 4th Grade writers recently participated in the annual Intermediate School tradition of creating their own newspaper, putting their narrative writing and reporting skills to work in the production of The IS Gazette.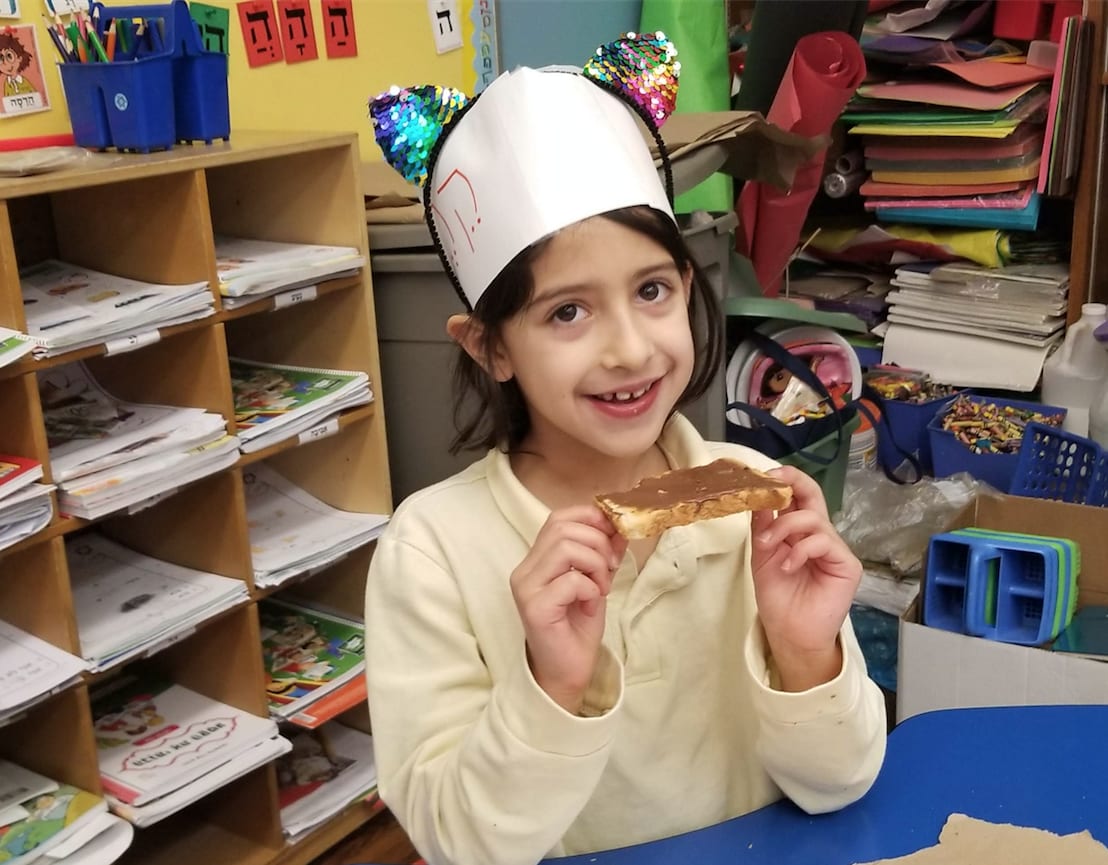 In Morah Tal's 1st Grade Hebrew class, the Aleph-Bet is jumping off the page...and onto the plate! Each week, her students participate in a creative activity that helps bring to life their new Hebrew vocabulary, and recently that meant an opportunity to be tabachim, or chefs.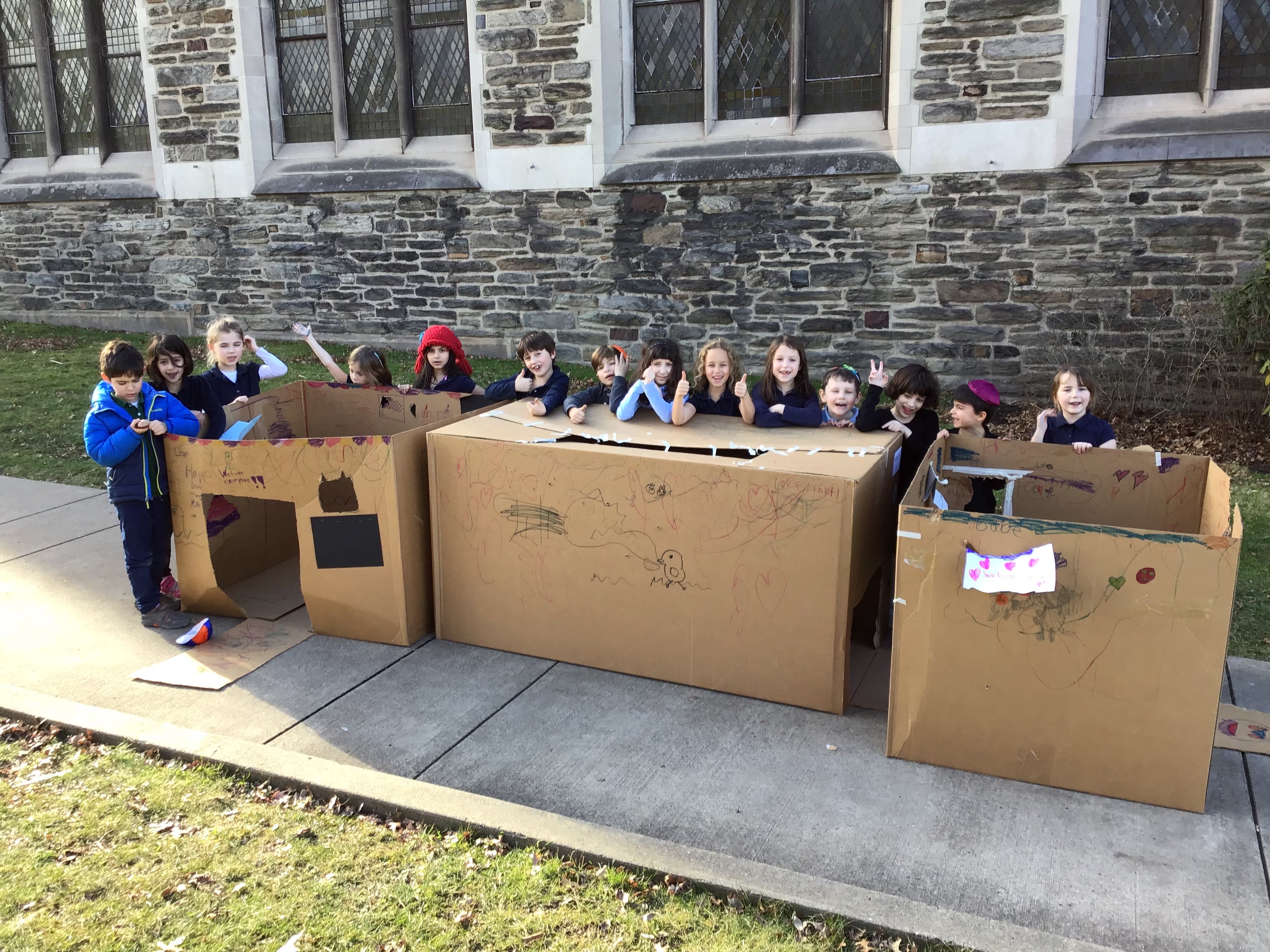 This week, new furniture was delivered to CDS for the Learning Innovation Lab. The couches and chairs are beautiful, but our younger learners were WAY more interested in the huge boxes in which they came. 
The Pre-K has a great interest in animals that shows every day in our classroom, and through reading, science, and creative activities, we've been exploring the basic living needs of all living creatures, from Spikey, our pet bearded dragon lizard to animals in the Australian Outback.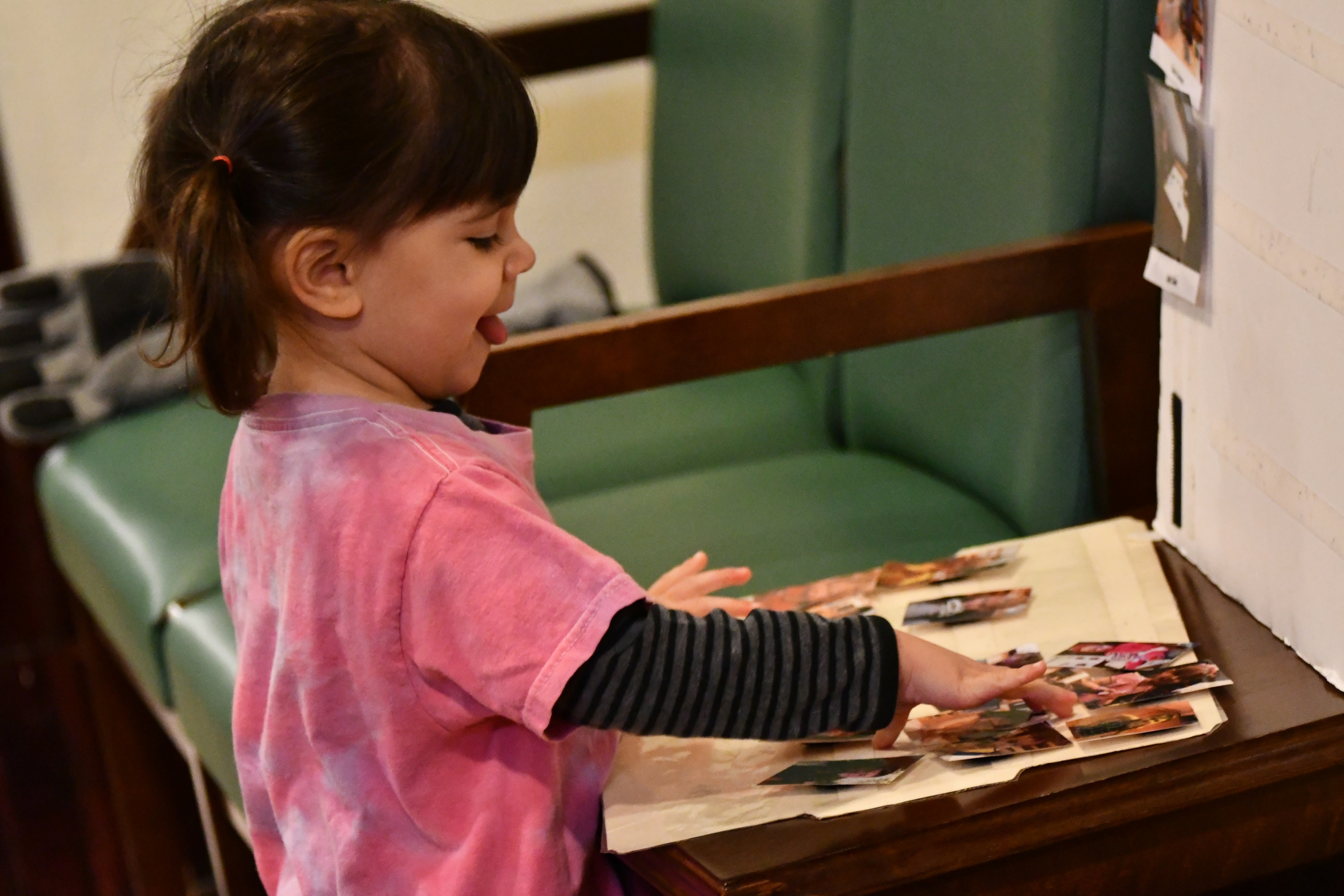 The 3-year-old students have a new daily routine they love that gives the children independence within set boundaries as they choose how to spend their morning playtime. 
​​​​​​​Purim is coming soon! We hope that you will join our school celebration by taking part in the CDS Parent Association's Mishloach Manot Project.

This year, our theme will be: Hello Spring! Support of this project not only fosters community and festive celebration, but it is also a major PA fundraiser.
Fri Feb 7
Bike Walk Rideshare to School
All day
Fri Feb 7
Spirit Day (Blue and Gold Day)
All day
Fri Feb 7
Full-School Kabbalat Shabbat and Spirit Day
8:00 AM - 8:30 AM
Fri Feb 7
Lion's Pride Open Hours
8:30 AM - 9:15 AM
Fri Feb 7
8th Grade vs Faculty Basketball Game
1:25 PM - 2:35 PM
Sun Feb 9
CDS Parent Association Karaoke Night
5:00 PM - 7:00 PM
Mon Feb 10
Admission offer letters mailed
All day
Mon Feb 10
Tu B'Shevat Green Team Program
All day
Mon Feb 10
8th Grade Minyan Makers with Beth Shalom
7:30 AM - 8:30 AM
Tue Feb 11
Tu B'Shevat Green Team Program
All day