A Message from CDS Head of School
Avi Baran Munro
Dear Families,

I want to share with you some critical updates as we begin a week of professional development on campus with our faculty leading up to the first day of school on Tuesday, August 25.
There are many very important details about our reopening plans in this long email, so please read it carefully in its entirety.
Learning Preferences - MANDATORY QUESTIONNAIRE
While we continue to closely monitor the number of COVID-19 cases in our nation and region and communicate with public health officials and infectious disease experts, our plans right now are to open on campus on schedule for those who elect this option.
IMPORTANT: Please complete this questionnaire separately for each child you have enrolled at CDS to confirm your learning preferences (on-campus or virtual learning) for the start of school by no later than Tuesday, August 18. This form is mandatory, as your responses are vital to our planning process this week.
Revised CDS Mask Guidelines: Gaiters, Bandannas, Vents, and Knitted Masks
Emerging research indicates that single-layered face coverings like neck gaiters, bandannas, scarves, and knitted masks without liners are ineffective in preventing the spread of COVID-19. The CDC also clarified that masks with exhalation valves or vents also should NOT be worn for this purpose. These types of face coverings will not be acceptable for anyone on our campus.
We instead recommend multi-layer cloth masks for children that are secured with ear loops instead of ties so students can manage them independently. The CDS brand masks meet these requirements. All children on campus will receive one the first day of school, but they should arrive with masks on their faces and extras to keep at school (label everything!).
If your child has not had experience wearing masks, we ask that you start "practicing" as soon as possible. With everything we have read and learned from others, many children become accustomed to wearing masks fairly easily, but just need time to adjust. Our educators will model, encourage, and discuss the importance of wearing masks, but our success will be a home-school partnership.
Daily Online Wellness Check
As part of our Kadimah CDS Campus Reopening Plan, it is mandatory that all families complete a Daily Online Wellness Check for their children prior to arriving at CDS each day. We have invested in a new app that integrates directly with MyComday.org and will streamline this screening process once it is implemented in the next couple of weeks.
Meantime, we will be relying on a Google Form that will be shared with you again each morning as a reminder to complete it. No student will be allowed to enter CDS without an online health screening completed that morning by a parent/guardian. Failing to complete this form daily in a way that is honest and true to the best of your knowledge will jeopardize the health and safety of our entire school community. It will also be time intensive for our staff to track down families who forget to complete the form and will detract from educational time for your children. That's why we are instituting a policy that if you fail to complete the form for your children on three separate dates, we reserve the right to require your students to become CDS Virtual Learners.
Questions in the screening include:
Does your child have a new onset of any of these symptoms (not connected to a chronic condition)? Symptoms currently include: fever, cough, shortness of breath or difficulty breathing, chills, muscle pain, headache, sore throat, new loss of taste or smell, congestion or runny nose, nausea or vomiting, and diarrhea.



Within the past 14 days, has your child or anyone in your household been in close contact with anyone known or suspected to have COVID-19? For COVID-19, a close contact is defined as anyone who was within 6 feet of an infected person for at least 15 minutes starting from 48 hours before the person began feeling sick (or, for asymptomatic patients, 2 days prior to positive specimen collection) until the time the patient was isolated.





Has your child or anyone in your household had a positive COVID-19 test in the past 10 days?





Within the past 14 days, has a public health or medical professional told your child or anyone in your household to self-monitor, self-isolate, or self-quarantine because of concerns about COVID-19 infection?




In the past 14 days, has your child or anyone in your household traveled to any foreign country or to or through any state with a COVID-19 travel quarantine advisory issued by the Commonwealth of Pennsylvania (Alabama, Arizona, Arkansas, California, Florida, Georgia, Idaho, Kansas, Louisiana, Mississippi, Missouri, Nevada, North Dakota, Oklahoma, South Carolina, Tennessee, Texas) List updated here: https://www.health.pa.gov/topics/disease/coronavirus/Pages/Travelers.aspx
Families who answer "YES" to any of these questions should not send their children to school and should contact School Nurse Susie Kerr at skerr@comday.org for guidance.
The travel question above means that any child who has been traveling either to or through (including, for example, getting gas or making food or rest stops) one of the above-listed locations after Sunday, August 9 will NOT be allowed to return to campus for the Meet and Greet on Monday, August 24. Families traveling after Monday, August 10 will not be allowed on campus on the first day of school.
Children in this situation can begin the year as CDS Virtual Learners and then move seamlessly back to campus after quarantine assuming normal health after the two-week quarantine is over. The same travel policy applies to our faculty and staff. It will be in effect for the foreseeable future, so please carefully consider any holiday travel or vacation plans. For questions, contact School Nurse Susie Kerr at skerr@comday.org.
Kadimah B'Yachad (Forward, Together)
In accordance with our Jewish and CDS values, we expect every member of our Community Day School family to hold themselves to the highest standards of personal, moral, and ethical conduct because our collective safety lies in the choices of every individual. In order to enter into this relationship of accountability and trust, we expect every member of our community to acknowledge this truth and to commit to behave in a way that honors it.
These behaviors to prevent the spread of COVID-19 include at minimum staying home when sick, maintaining required physical distance, wearing facial coverings, limiting the size of gatherings, practicing good hygiene, limiting non-essential travel, monitoring family health, receiving a seasonal flu vaccine, and completing our daily wellness checks. Our ability to deliver an in-person educational experience means every CDS family must adhere to these practices at school and at home. As a reminder of our shared responsibility, we will require you to affirm this statement each morning as part of your child's online wellness check:
I understand my shared responsibility to prevent the spread of COVID-19 and that my actions both on and off campus help protect everyone's safety and have a direct impact on the capacity of CDS to offer in-person instruction.
CDS 2020 Meet & Greet: Monday, August 24
On Monday, August 24, each grade level will have the opportunity to come to campus during a specific time window to reconnect in person with their teachers from 2019-2020 for the first time since March and greet their new teachers for this school year. Families will be dropping off their students and not participating in the Meet and Greet.
On-campus learners will participate in outdoor games and activities (we have an inclement weather plan), and Lower School students will visit their new classrooms in shifts with their cohorts. Virtual learners will have a separate Meet and Greet (times below) designed to build community and establish norms for their online learning experiences. We will share the logistics of drop-off, pick-up, health screening, etc. for that day later this week, but below is a chart so you can save the date for the times for your children.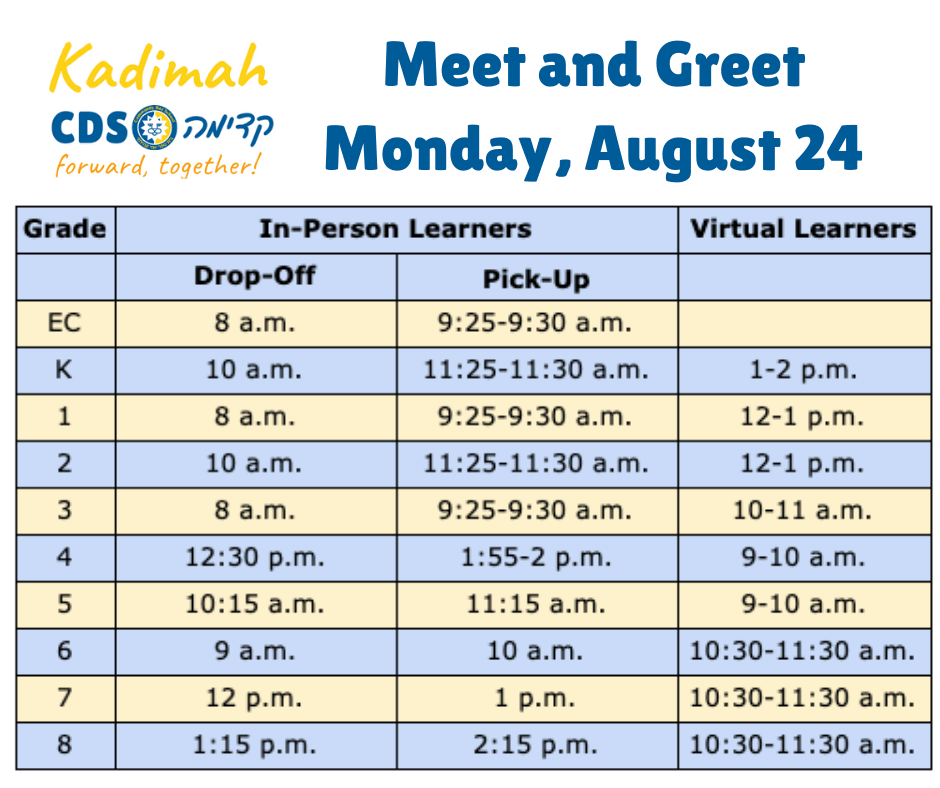 I know there is a lot of information here to digest, and there will be much more to come in the week ahead. I am deeply grateful for the commitment each of you has made to CDS and appreciate your ongoing support. Please reach out to our staff with any questions (here is a Contact List for the 2020-2021 academic year).
Thank you,
Avi Munro